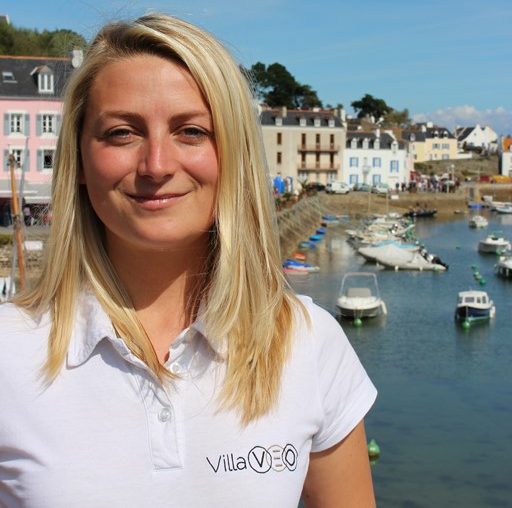 I am Anne-Sophie, explorer in Bretagne Sud
CALL-ME!
You can count on me to point out the best spots and provide recommendations for southern Brittany— where to find the best crepe or seafood platter, where to dive, which hiking trail to take, etc.
The biography of Anne-Sophie, explorer Bretagne Sud
---
Degemer Mat is how we say welcome in southern Brittany, the land of my fellow die-hard Bretons. Originally from Carnac, I started out by exploring Europe before settling down in Lorient. Proud of my region, I invite you to come share a crêpe at the Sauzon port or hike with me in the countryside of Morbihan. Known for their big personalities, Bretons know how to welcome visitors with warmth and generosity. The Morbihan is not only famous for its golf courses, islands, white sand beaches and megaliths but also for its pubs, acquatic activities, creperies and of course the sun! I'm eager to share my passion for my region where you'll have a totally new holiday experience which will leave you smiling with the taste of salted caramel in your mouth!
3 inside's questions to our explorer!
---
So why South of Brittany?
Feel the need for some fresh air? Come away with me to the south of Brittany to discover this multi-faceted destination! The Gulf of Morbihan, the little Breton sea, makes it possible to not only spend a holiday focused on "relaxation and well-being" but "nature and sports" as well. From the Celtic legends about the Forest of Brocéliande to the jagged landscapes of the pristine coast of Belle Île, there's something for everyone! Known for its water activities, the coast of Morbihan will also allow you to satisfy your desire to hike by the sea. Brittany is also famous for its cuisine: crepes, fresh fish, seafood, and last but not least kig ha farz (a cooked dish consisting of various meats simmered in a broth with a buckwheat flour-based pudding)! Treat yourself to a unique and revitalizing holiday…you'll be sure to enjoy it!
So when are you leaving for South of Brittany?
One thing is for sure, we have sunshine every day in Brittany thanks to our tides! May to September is the best period to take advantage of the beaches in Brittany. I would advise you to visit in the fall to discover a more pristine and authentic Brittanyor in the winter to witness the impressive storms along the coast. From the month of April, our cliffs are adorned with heather and yellow-flowered shrubs, the symbols of Brittany. A number of activities start up again in the spring— sailing races, the Lorient Interceltic Festival, music festivals, etc.
What is your best souvenir of South of Brittany?
As a scuba diving enthusiast, I was filled with emotion during a dive at Belle Île while discovering catsharks and schools of fish. Finding myself surrounded by this immense school of fish was a moment of respite from the real world. Discovering multi-coloredred ball and jewel anemones was also incredible. As you have understood, our sea floor is teeming with life which you can discover with a simple mask and breathing tube if you want!